HKS Universal SSQV4 Blow Off Valve
HKS Universal SSQV4 Blow Off Valve has been one of the favorite modifications among sport compact drivers for more than 20 years. From its unique chirping sound, to the ability to out-perform OEM units makes this a blow off valve one can depend on. The latest HKS Super SQV4 Blow Off Valve employs the same design qualities as the original which involves a pull-type sequential valve structure with a differential pressure control system. This design allows for stable operating ranges from low, to high boost pressures.
This is a universal unit that will come provided with a c-clip, zip-ties, a pair of vacuum T's, and a vacuum line filter.
Features
1. High Quality Aluminum Die-Cast Body

Silver-coated aluminum die-cast body. Combines the ultimate in looks and durability in the engine compartment.

2. High Stiffness Metal Die-Cast Valve

Secondary valve main portion is made of die cast metal. Reliable operation with beautiful looking.

3. Triple Fin design produces "Super Sound"

Triple Fins set at the center of the funnel produces a dynamic and aggressive sound. An optional special Round Fin can be purchased separately for sound tuning.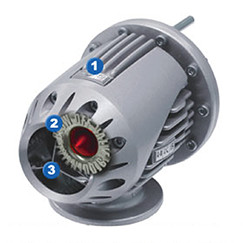 1. Pull-Type Relief Valve Operation

The Pull-Type valve operation offers more precise relief of excess boost and is compatible for a wider range of boost pressure compared to typical push-type blow off valves.

2. Primary Valve (Small)

Lift off the throttle, and the primary valve instantly opens, quickly discharging initial excess boost pressure.

3. Secondary Valve (Large)

This valve combined with the Primary Valve from the sequential dual valve structure. Optimal blow-off operation from how to high boost ranges without leaking.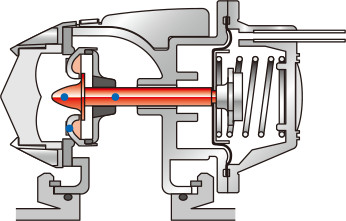 Dual Valve Structure, Sequential System
At low boost ranges the Primary Valve opens, and at high boost ranges the Secondary Valve also opens, resulting in linear response and optimal blow-off operation at all boost levels.
Accelerator ON
Valves Closed

As pressure rises in chamber C, pressure is applied to both the Primary and Secondary valves. The higher the boost pressure, the more pressure is applied to the valves, preventing leaks.

Accelerator OFF
Primary Valve Opens

Throttle lift creates a pressure difference between chambers A & B, opening the primary valve bypassing the secondary valve. this creates the initial discharge.

Accelerator OFF
Secondary Valve Opens

When pressure difference in chambers A & B reach a maximum, the Primary Valve pulls the Secondary Valve open, creating a secondary discharge.

 
Pull-Type blow off valves will work for any turbocharged vehicle, from stock to highly tuned.
Typical push-type blow off valves require spring load settings for each vehicle specification. If the spring load setting is too low, the valve may leak under high boost and the desired boost setting may not be reach. If the spring load setting is too strong, it may not open at low boost. The Super SQV will operate under any boost pressure setting without leaking.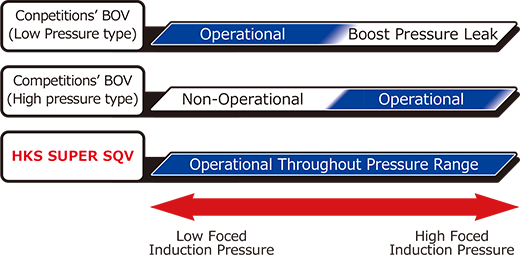 For more info:
https://www.hks-power.co.jp/en/product/blow_off/sqv/index.html
Might also like: